Education and Training in Afghanistan
An investment in knowledge always pays the best interest. (Benjamin Franklin)
The thirst for knowledge of children in Afghanistan is unsatisfied. The vast majority of Afghans, especially women and girls, still cannot read and write. Shelter Now builds schools for girls and boys.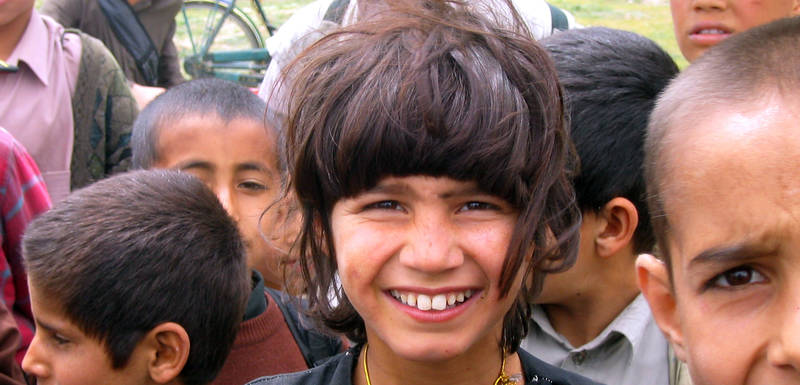 "Build us a school – we want to learn ASAP!"
This urgent request was often heard by our employee when saying goodbye to the children – as well as to the girl in this photo. In a village north of Kabul, he had discussed the plan to build a girls' school.
Shelter Now already built several schools in the refugee camps in Pakistan. Education is a fundamental right of all people, everywhere in the world. In Afghanistan, it is also a basic prerequisite for the country's democratization to be permanently stabilized. The girls and boys are highly motivated. You know: You can only earn money if you have learned something. Asked about their career aspirations, they answer: "Pilot, engineer, doctor, lawyer, university lecturer or even president".
Especially important: schools for girls
The children and teenagers learn math, writing and reading with enthusiasm. Some also meet in the afternoons in voluntary study groups. The first school that Shelter Now built became too small with 1,000 students. On top of that, twice as many boys as girls go there.
The reason for this imbalance is that the girls often have to pass a neighboring village on their way to school, which many parents forbid. That is why we have built another school just for girls, directly in their home village.
A school place costs about 150 euros. In addition, there are the teaching and learning materials and the staff. Teaching is usually done in two or even three shifts until enough rooms are built. Afghanistan still needs many schools.
Shelter Now also tries to help set up the school and sometimes bears the staff costs of a second shift of classes.
Helping Hands School
"Our" elementary school in Kabul
For some years now we have also been school authorities.
In a rather poor district of Kabul, we maintain an elementary school for about 120 girls and boys whose parents could otherwise not afford a private school. The teachers are very committed and make their lessons more imaginative than usual in Afghanistan. In most schools, the only way to learn is to have someone say something and the class repeats it in choir…
The children at Helping Hands School come from different ethnic backgrounds. It is a joy to watch them eagerly studying or happily playing in the playground.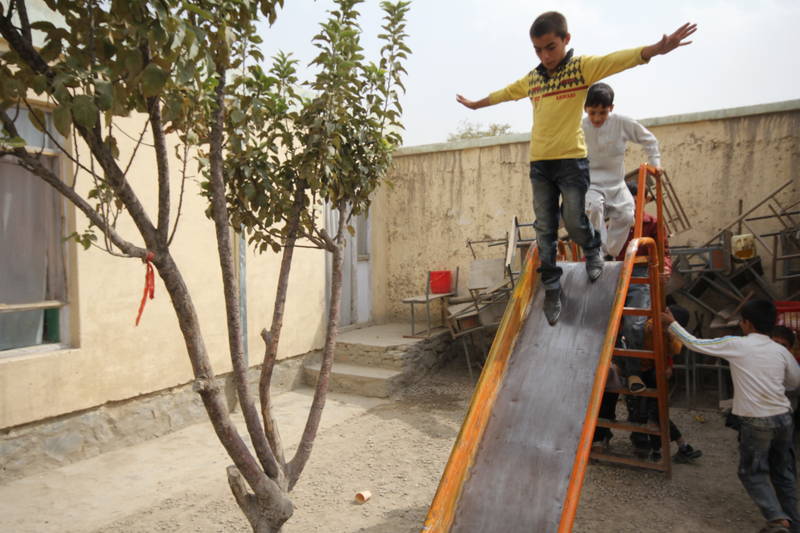 Our students also show creativity when sliding.
Please help us to take action!
Our help is only possible thanks to your support!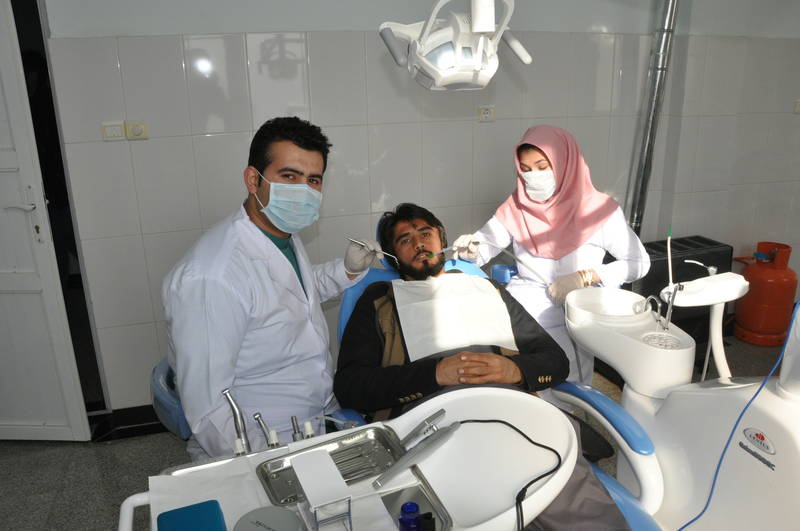 The new dental clinic in Herat
In January 2016, after a long preparation period, we were able to open the new dental clinic. Actually, it should be called a "training center for dental health". Because we have completely revised our concept. In cooperation with the university, the dental students will receive their practical training here. They did not have this possibility before.
1 dentist in Germany per 1,200 inhabitants, 1 dentist in Afghanistan per 20,000!
For this reason, the Afghan government has also established a new dental faculty in Herat and, a few years ago, a new dental faculty in Herat, which accepts 120 first-year students per year. The government's goal of doubling the number of health-care professionals within 5 years will therefore be achieved by establishing 2 dental faculties in Kunduz and now in Herat. Shelter Now's opening of this teaching clinic is the first step in offering students practical training opportunities.
Another goal of this project is to offer a prophylactic program for school children at public and private schools and then (where necessary) to enable their treatment at the clinic.
We are just starting and are excited how it will be. Obviously this project costs a lot. If you would like to support us, please donate with the purpose: "Dental Clinic" or "Project No. 6510".
Update 2018: The clinic has become a showcase project. In the meantime, three government ministers from Kabul have also been here and were deeply impressed. They consider it the best educational dental clinic in the country.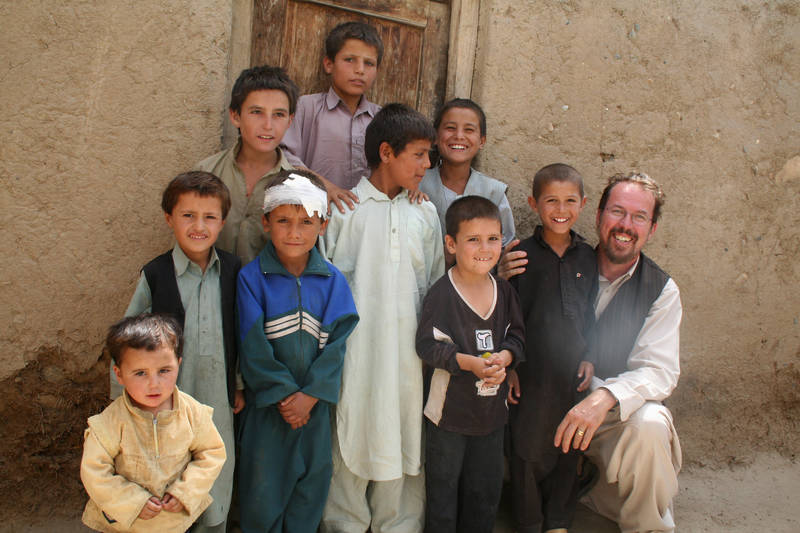 Orphanage in Northern Afghanistan
More than 20 years of war has made many children in Afghanistan orphans. Often, in accordance with Afghan family culture, they are taken in by close relatives. But far too often this is not possible. In Faizabad Shelter Now supports a state orphanage. Most of the 60 boys and girls who found a home here years ago are now adults.
Therefore many new orphans were taken in.
In the meantime the orphanage has moved several times, the children have grown older and the girls have been transferred to other orphanages.
Now there are about 200 boys from 5 to 18 years. They go to school, but at the age of 18 they have to leave the home and are left without a job.
Boys from the orphanage get an education
Finally a dream of our two employees Natalie and Corey seems to come true: We can give some of them an education!
Center for the Deaf
The educational situation in Afghanistan is still devastating. Disabled people are particularly affected: without training, they can hardly find paid employment. Shelter Now has maintained a center for the deaf since 2005.
This center sees itself not only as a school.
Although it looks quite similar: Male and female students are taught separately in two classrooms. The age spectrum ranges from 8 to about 40 years. They learn sign language and cultural techniques. Depending on their aptitudes and talents, they are also prepared for a profession and supported in their job search.
Schon nach wenigen Jahren erkennt man bereits Erfolge: Die ersten Schulabsolventen wurden erfolgreich vermittelt und sorgen seitdem für ihren eigenen Lebensunterhalt. The deaf students have now developed a remarkable level of confidence and self-esteem. This is particularly noticeable among girls and women. It is fun to watch the lessons and see that it is possible to "develop human dignity" through a project like this.
This program costs us about 50 Euros per month for a deaf student.
Update 2018: In the meantime we have three classes: one primary school class has been added.
Some young women from the center have received training as make-up artists and hairdressers and earn their living in the "Ladies' Center".